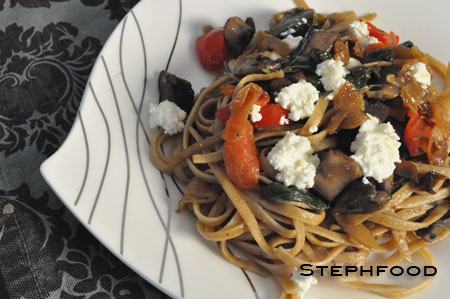 This dish started out as a bit of a recipe fail. I think I know what happened – I'm sure it was something I screwed up – but it still soured me on the whole thing. This recipe uses the same flavours from the one I tried to make initially (see source recipes), but simplified – and with guaranteed results.
One thing you should know about me – for some reason, I don't like cooked chèvre (creamy goat cheese). Sure, I've had the odd dish that did it well, but it's rare. It can be temperamental, and gets mealy when overheated. That was the downfall of the recipe I tried to make.
It called for a goat cheese sauce that was barely cooked, so I didn't think it could go so wrong. It did. As soon as I tossed the sauce with the noodles and veggies, the whole thing turned into a soupy mess. It looked like a magic trick – 'where did the goat cheese go?'. Frak. I probably didn't drain the pasta well enough.
What made me really sad was that the rest of the dish had promise – a mix of great flavours, easy to make, possibly quick (unless you opt to caramelize the onions, which I totally did). I didn't want to give up on it, and since I still have half of the caramelized onions left, I couldn't let this be the end.
This version of the dish retains the flavour of the inspiration dishes. Wonderful fresh tarragon (love, love, love – if only my plant came back this year!), creamy goat cheese, earthy portabello mushrooms, sweet caramelized onions… oh yes, it was worth a retake. The main difference? We're not making a sauce with the goat cheese this time…
My absolute favourite way to enjoy goat cheese on pasta is to add it to my plate. While the pasta is still piping hot, crumble some of the goat cheese on top and let it melt into the pasta. It stays creamy and delicious every time, and it will save you prep time. Win-win!
A note about the caramlized onions… if you're lazy, like me, but also love caramelized onions, make a double batch. It's time consuming, yes, but totally worth it if you make enough to last you two meals. I cooked the onions while prepping everything else (uh, and dying my hair, if we're being honest) and it only takes a wee bit of babysitting – a stir here and there will suffice. But yes, it does take at least 20 minutes of cooking on a low-medium heat. Mine took 30. It was worth it. (Repeat)
The Verdict:
I think I pulled this one out. It was a failure the first time, but I try not to freak out and repeat the mantra "It was a learning opportunity", as I try to figure out what the heck we're going to eat. The new version is actually simpler, and less risky, and so very delicious!
Please note that I am in no way implying that the inspiration recipes were not well written. I thought they were both great – but I made mistakes in the execution, and I knew I could simplify things a bit.
Portabello Linguine with Goat Cheese and Caramelized Onions
Inspired by this recipe and this recipe
6 servings
Ingredients:
1 tablespoon butter
3 tablespoons olive oil
1-2 spanish onions, sliced thinly
1 cup green garlic, chopped
1 pound portabello mushroom caps, cut into 1/2 inch cubes
1 teaspoon salt
1/4 teaspoon fresh-ground black pepper
2 tablespoons chopped fresh tarragon, or 2 teaspoons dried tarragon
1 cup baby spinach
1/2 red pepper, chopped
1/2 pound chèvre, crumbled (or any mild, crumbly goat cheese)
3/4 pound linguine
2 tablespoons chopped fresh chives or scallion tops
Preparation:
If you are caramelizing the onions, do this first: Heat a frying pan over medium heat. Melt 1 tablespoon of butter and 1 tablespoon of oil. Add the onions, 1/2 teaspoon of salt, and pepper. Cook, stirring, until the onions are caramelized, about 20 minutes. (Alternatively, you can simply sauté onions until golden over medium-high heat for just a few minutes, if you don't require them to be caramelized). Remove onions from the pan and set aside.
Meanwhile, in a large pot of boiling, salted water, cook the fettuccine according to package insructions. Drain, and set aside.
Turn the frying pan up to medium-high heat and add 1 tablespoon of oil. Add the green garlic and sauté until softened. Add the mushrooms, a pinch of salt, and pepper.Add half of the tarragon now (if using dried, add it all here). Cook, stirring occasionally, until the liquid has been released from the mushrooms.
Stir in the spinach and red pepper, and cook for 5 more minutes. Add the onions back in for the last minute or two.
Toss the pasta with the mushroom mixture, the remaining 1/4 teaspoon salt and 1 tablespoon olive oil. If you are using fresh tarragon, as opposed to dried, toss the rest in now.
While the pasta is still hot, plate it and add some crumbled chèvre and the chives. Grind some black pepper over top.