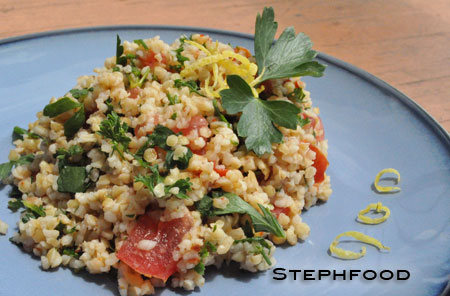 Another in a line of fresh summer salads, Tabbouleh is great if you have too much parsley on hand. I thought this would be a great way to stop the parsley from taking over the garden. Made up primarily of bulgur wheat, parsley and tomatoes, this Middle Eastern favourite provides a nice break from the usual green salad.
Like most salads, this one is pretty flexible. Do a quick Google search, and you'll see some that look like they're entirely made of parsley – mine is heavier on the bulgur. The main elements – bulgur, parsley, tomato and lemon juice – are the key constants. I usually buy a coarser bulgur, for making pilafs over the winter. Lucky for me, I had just enough fine bulgur stashed in the cupboard for this occasion.
I added some Aleppo and Maras pepper to give it a bit of kick. Aleppo is fruity, and not spicy, and the Maras is a little fruity and also a little spicy. So much fun!
One note about the tomatoes… You can use whatever you have on hand. This is a great way to use up bits of tomato left from making sandwiches. The one thing to pay attention to is the water content. If your tomatoes are watery, I recommend straining the liquid off before adding them to the salad. If you are using a drier tomato, like a Roma or a grape tomato, you probably don't need to worry about it.
Tabbouleh (Middle Eastern Bulgur and Parsley Salad)
4-6 servings
Ingredients:
1 c dried fine bulgur
1 c packed finely minced parsley
1/4 c minced mint
A sprig of dill (optional)
Salt and freshly ground pepper, to taste
1/2 – 1/3 c chopped tomato (Roma and grape tomatoes work well)
Juice from 1 med lemon
1/4 tsp Turkish Maras ground pepper (optional, could also use a pinch of cayenne)
1/4 tsp Aleppo pepper (optional)
Preparation:
Pour 2 cups of boiling water over bulgur, in a heat-safe bowl. Gently stir with a fork, then cover with a clean dish towel. Leave for 10 minutes. Most of the water will be absorbed, strain off any excess. Allow to cool.
Stir in the remaining ingredients.
Refrigerate for at least an hour. Can be served slightly chilled, or brought back to room temperature.