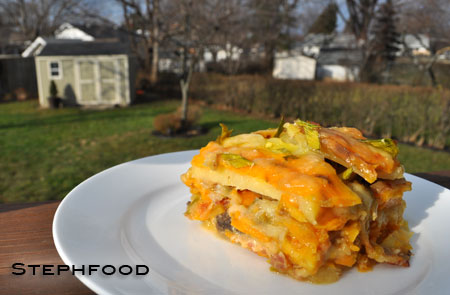 It's great how the holidays can inspire you to cook. Maybe it's the fear of judgement by the family that makes us strive for the best! The key is to find something that tastes impressive, without being too complicated and frustrating to make. This is one of those dishes…

Every year, my immediate family does brunch on Christmas Day. This is probably the smallest gathering we have during the holidays, and possibly the most filling. Have I mentioned that I love brunch?
My mom found another great recipe to try – a Potatoes au Gratin dish that is far from boring. While it could fit quite well in any dinner menu, it makes a great brunch main!
This is a very rich dish, but you can lighten it up as needed. In fact, we already have – the original recipe called for heavy cream, and we substituted evaporated milk. At the same time, we added more cheese… when I told my mom there wasn't any cheese in the layers, she said "you HAVE to put cheese in the layers". So we did. You really don't need to make it as cheesy as we did, but I would recommend putting some in each layer – the recipe ingredients below reflect the amount of added cheese that I recommend. You could also take out the bacon – it tasted good, but wasn't central to the dish.
The best thing is the mix of regular potatoes and sweet potatoes. Aside from being delicious, sweet potatoes are so good for you, and look so pretty in the dish! The sauce originally only included leeks… we decided to add mushrooms. We add mushrooms to everything! They did not disappoint.
We paired this dish with a great egg dish (I might have to post about this one, too!), some yummy sausages and MIMOSAS! What a great holiday brunch!
Verdict:
I would definitely make this dish again! It takes some time to prepare and assemble, but makes a LOT of food. It reheats well for leftovers – for brunch, lunch or dinner! It makes use of seasonal ingredients, such as leek and sweet potato and the thyme adds a nice woody flavour.
Potatoes au Gratin
based on the recipe from Canadian House & Home.
10 – 12 servings
Ingredients:
6 strips bacon
1 tablespoon butter or vegetable oil
2 cloves garlic, minced
2 cups thinly sliced leeks, white and light green parts only
2 cups sliced mushrooms
1-1/2 cups evaporated milk
2 tablespoons whole-grain mustard
1 teaspoon dried thyme
1 pound sweet potatoes, peeled and thinly sliced
1 pound yellow fleshed potatoes, peeled and thinly sliced
1/2 cup freshly grated Parmigiano-Reggiano cheese
1 cup grated Asiago cheese
1 cup grated Gouda cheese
Preparation:
Preheat oven to 400°F. Lightly butter an 8-cup shallow baking dish.
Heat a large sauté pan to medium-high. Cook the bacon until crisp. Set aside.
Reduce the heat to medium. Add butter or oil to bacon fat already in the pan.
Add garlic and leeks; cook stirring often for about 3-5 minutes or until slightly softened.
Add mushrooms, and sauté until lightly browned.
Add evaporated milk, mustard and thyme. Stir until mustard is evenly distributed. Remove from heat.
Into the prepared baking dish, layer the following ingredients: 1/3 of the white potatoes, 1/3 of the sweet potatoes, 1/2 of the bacon (crumbled), 1/2 of the leek mixture, 1/3 of the cheese. Repeat. Top with the rest of the potatoes.
Cover with aluminum foil and bake for 40-50 minutes or until potatoes are tender when pierced with a knife.
Remove foil and sprinkle with cheese and more finely sliced leek (green part); bake uncovered for 8-10 minutes or until cheese melts and sauce is bubbly.
Let stand for 5 minutes before serving.