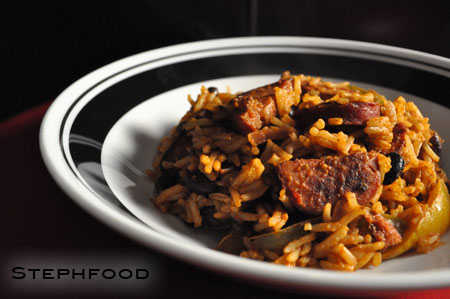 This is a simple dish that is extremely flexible, because the spices do most of the talking.
It's hard to say what "kind" of cuisine this recipe is. As you can see from my inspiration recipes, I took from Creole, Carribbean, and Cajun. This isn't making a statement about authentic cuisine – it's about coming up with delicious meals that can be made on a weeknight that have some character.
The base parts: rice, black turtle beans and the right assortment of spices. Oh yeah, and some Tabasco sauce. Here, I added some smoked sausage, but you could easily substitute shrimp or double up the beans and leave it veggie. In fact, I think I would have liked a few more beans regardless.
This dish makes really good leftovers to take to work the next day. I think a few more veggies and beans would improve the dish, but that's just my preference. 'Rice and beans' doesn't sound very exciting, but this dish is pretty flavourful – especially when you add more Tabasco.
Southern Rice and Beans
Inspiration taken from this recipe, and this recipe.
Ingredients:
1 to 1 1/2 pounds smoked sausage, cut into 1″ slices
1 small onion, chopped
1 1/2 cups celery, chopped
2-3 cloves garlic, minced
1 bell pepper, thinly sliced (mostly green, but I also added some yellow for colour)
2 cloves garlic, minced
1.5 cups cooked black beans, rinsed well
1 cup tomato sauce
1 tablespoons white vinegar
few dashes Tabasco
2 teaspoons dried oregano
2 teaspoons sweet paprika
1 teaspoon smoked paprika (if you can't find it, just use more sweet paprika)
1 teaspoon Basic Creole Spices
1 teaspoon filé powder (optional)
2 cups cooked white rice
fresh ground black pepper, to taste
Preparation:
Brown sliced sausage in a deep sauté pan over medium heat. Remove from pan and set aside.
Sauté onion, celery, red and green peppers and garlic until softened.
Add black beans, tomato sauce, vinegar, Tabasco, oregano, paprika, and Creole spices. Cover, and simmer for 5 minutes.
Add filé, and turn heat down to low. Mix in cooked rice, cover and leave for 2-5 minutes to allow flavours to mingle.
Serve with additional Tabasco and filé.