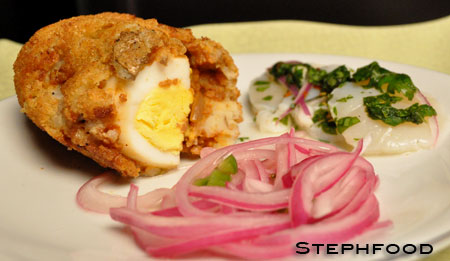 This month's Daring Cooks challenge takes a stab at Peruvian cooking.
There used to be a Peruvian restaurant in Toronto that J and I liked quite a bit. They offered delicious ceviché, lots of great fish options… generally, quite a bit to choose from for us pescatarians. We were sad when it closed, and wondered where we would get our fix of Peruvian food…
I guess the moral of the story is that if you want something, get off your duff and try to make it yourself!
I was pretty excited to see Peruvian food as the theme for the challenge, and it was a dish that I had never heard of before – Papas Rellenas. I briefly wondered if there was any relation to the Mexican dish, Chile Relleno. Both are stuffed and fried dishes…
Papas Rellenas is basically stuffed potato, where you mold mashed potato around a stuffing that is often made up of seasoned meat, olives, raisins and egg. The hilarious part about the Papas Rellenas (to me, anyway), is that you basically form it to look like a potato! After it's fried, it almost just looks like a potato. HILARIOUS!
Unfortunately, I didn't get a good picture of a whole one. I was too focused on trying to show the inside.
One of the unexpected highlights of this challenge was actually the condiment that we prepared to serve with the papas, called Salsa Criolla. On paper, it doesn't look that interesting, and initially I was tempted to skip it. It's basically just marinated, thinly sliced red onion. Reading some of the early feedback on the challenge changed my mind, however, as people described how much they loved the stuff. They were so right! The onion mellowed out by the marinade, and it was the perfect accompaniment to the dish. I will definitely be making this in the summer to go with some nice grilled fish. Yum!!
The least successful part of the challenge, for me, was the ceviche. I kind of wussed out on it… I've had lots of different kinds of ceviche before, and usually really like it. I even made it once, a long time ago. This time, I thought I'd make it a simple side dish for the meal, and just did some thinly sliced scallop. It was just OK. Really, it wasn't terrible, but I think I was expecting to like it more than I did (because I love scallop). That, and I was really happy with the way the other dishes turned out, so I think they outshined my rather dull attempt at ceviche.
I'll try it again in the summer, and next time I'll do it with more gusto.
But first…  I think I'll try making a baked version of the papas. I'm not so keen on frying things, so I need to adapt this dish if I'm going to make it more regularly. I know I won't get the same kind of crispness on the outside of the papas just with baking, but it's worth a shot!
Kathlyn of Bake Like a Ninja was our Daring Cooks' March 2011 hostess. Kathlyn challenged us to make two classic Peruvian dishes: Ceviche de Pescado from "Peruvian Cooking – Basic Recipes" by Annik Franco Barreau. And Papas Rellenas adapted from a home recipe by Kathlyn's Spanish teacher, Mayra.
Papas Rellenas
Based on a recipe provided by Kalthyn, from Bake Like a Ninja – adapted from a home recipe by her Spanish teacher Mayra.
Ingredients:
For the dough:
1 lb baking potatoes
1 large egg
For the filling:
2 tablespoons vegetable oil
1 small onion, finely diced
2 cloves garlic, minced
1 finely diced aji pepper (can use jalapeño, or even 1/2 teaspoon chili flakes)
1 cup tvp, rehydrated (add enough hot water to wet the tvp, add more if it dries out)
6 black olives, pitted and chopped (I used 4 oil cured black and 3 big pitted green)
½ cup raisins, soaked in 1 cup boiling water for 10 minutes, then minced (I omitted these)
1 teaspoon ground cumin
1 teaspoon sweet paprika
¼ c. white wine, water or stock
Salt and pepper to taste
3 hard boiled large eggs, halved
1 large egg, beaten
1 cup all-purpose flour
Dash cayenne pepper
Dash salt
1 cup dry bread crumbs
Oil for frying (enough for 2" in a heavy pan like a medium sized dutch oven)
Preparation:
Boil the potatoes until they pierce easily with a fork. Remove them from the water and set aside to cool.
In a sautée pan, heat up 1 teaspoon of oil and cook the onion and garlic until browned.
Sauté the pepper until softened.
Mix in the hydrated TVP, cumin, paprika, raisins (if using).
Deglaze the pan with the wine/water/stock.
Add in the olives and cook for a couple of minutes.
Remove from heat, and set aside to cool.
If the potatoes aren't too hot, gently grate, rice or mash them into a large bowl.
Mix in the egg, salt and pepper and knead well.
To form and fry the papas:
Once the filling has cooled enough, you can form the papas. Use three small bowls to prepare the papas: combine flour, cayenne and salt in the first; a beaten egg with a tiny bit of water in the second; bread crumbs in the third.
Divide the potato "dough" into 6 equal portions. Flour your hands, to help prevent sticking and form one portion into a round pancake across the palm of your hand. Make an indentation in the palm area, to add the filling.
Spoon in about 2 tablespoons of filling into the palm of your hand. Gently press a halved hard boiled egg into the centre of the filling, cut side up, until it is flush with the filling.
Gently fold the potato closed around the filling, forming it into a potato-like shape. Repeat until all 6 have been shaped.
Heat 1 ½ – 2 inches of oil in a pan to about 350 – 375° F (175 – 190°C).
Carefully dip each papa in the three bowls to coat: first roll in flour, then dip in egg, then roll in bread crumbs.
Fry the papas about 2-3 minutes until golden brown. I found that carefully rolling the papas while frying helped to ensure even frying, and kept the potato-like shape.
Drain on paper towel and store in a warmed oven if not eating right away (or while frying up the rest of the papas, if making batches).
Serve with salsa criolla, and eat as soon as possible.
Salsa Criolla
Ingredients:
1 medium red onion, cut in half and very thinly sliced (as half-circles)
1/2 chili pepper
1 tablespoon vinegar
2 tablespoons fresh lime juice
Salt and pepper to taste
Preparation:
Soak the onions in cold salt water for about 10 minutes to remove bitterness. Drain.
In a medium bowl, combine the onions with the rest of the ingredients, season with salt and pepper.
Cover with plastic wrap and refrigerate for at least 30 minutes for the onions to macerate and the flavors to combine
Scallop Ceviché
Ingredients:
4 large sea scallops, thinly sliced
1 large garlic clove, mashed
1 finely diced aji pepper (can use jalapeño, or even 1/2 teaspoon chili flakes)
1 cup freshly squeezed lemon and lime juice
1 tablespoon fresh cilantro, finely chopped
1/4 red onion, thinly sliced lengthwise
Salt and pepper (to taste)
Preparation:
Wash and trim the scallops and slice them ½ inch thick. Place scallops and onion in a glass bowl and sprinkle with salt and pepper.
Combine lime juice, chili pepper, cilantro and garlic and pour over the scallops. Gently stir the mixture, exposing the scallops to the juice.
Let it "cook" for 30 minutes.
Serve with a slotted spoon, to drain off most of the juice.