The main reason I chose to make Pozole is for the hominy, or what I've been describing as "big-ass corn".

Every time I walk through Kensington Market, I see the dried hominy out front of the Mexican grocers, and wonder what people use them for. At the time, I didn't know they were called 'hominy' – the signs said other things, and I never actually asked. I was always really intrigued by the big-ass corn, though.
Not long ago, I was reading about hominy and found out that it's commonly used in stews, including Pozole. A relative of corn, it's also used to make corn flour, used in tamales and corn tortillas. I got some great advice from someone who worked at the shop, and he pointed out the difference between the hominy I needed and the others. For Pozole, you need to get the hominy that has been skinned, 'mote pelado'.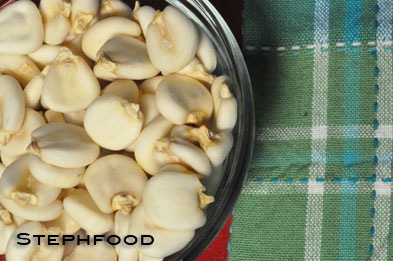 I ended up buying canned hominy, as well as dried. Since this is the first time I'm using hominy, I thought it would be best to use the canned. Next time, however, I will be cooking them up from dried.
How do they taste? Not like corn kernels, so I really don't recommend substituting (although some recipes will say you can). Cooked hominy tastes much more like corn chips or corn tortillas – a nice toasty flavour, and a soft texture. It might be closer to popped corn than niblets.
The Verdict:
Oh yeah, I made a stew with the hominy! This was a really fun stew that I would recommend to anyone who likes chili, but wants to mix it up a bit. It's a great excuse to use poblanos and tomatillos, if you can get them. It's easy to make as a vegetarian or meatatarian dish. Not a boring brothy soup, it's hearty, a little bit tart, a little bit spicy and very satisfying.
Poblano Pozole
based on this recipe from Epicurious.com.
6 servings
Ingredients:
1 1/4 teaspoons olive oil
1/2 cup diced onion
1/4 cup diced celery
2 tablespoons chopped fresh cilantro, divided
2 cloves garlic, chopped
1/2 pound protein (I used seitan)
1 1/2 cup cooked hominy (can use canned, if drained and well rinsed)
1/2 cup diced Poblano pepper
3 ounces canned tomatillos, diced (I used 4 oven-roasted tomatillos)
2 teaspoons cumin seeds
2 teaspoons dark chile powder
1 dried Guajillo chile, whole (optional)
1 teaspoon oregano
1 teaspoon ground coriander (optional)
Salt and freshly ground black pepper
2 3/4 cups light-flavoured stock (i.e. vegetable, chicken, etc.)
Preparation:
Sauté onion and celery in oil in a large heavy pot, over medium-high heat. Add 1 tbsp cilantro and garlic in panand cook until the onion softens.
Add protein and brown on all sides (approximately 5 minutes for seitan or tofu, and about 10 minutes for raw meat).
Add Poblanos and tomatillos, stir well. Add hominy, cumin, chili powder, Guajillo chile, coriander, oregano, salt, pepper and stock.
Bring to the boil. Lower to medium-low heat, cover and simmer for 30-45 minutes.
Stir in remaining 1 tablespoon cilantro; serve.