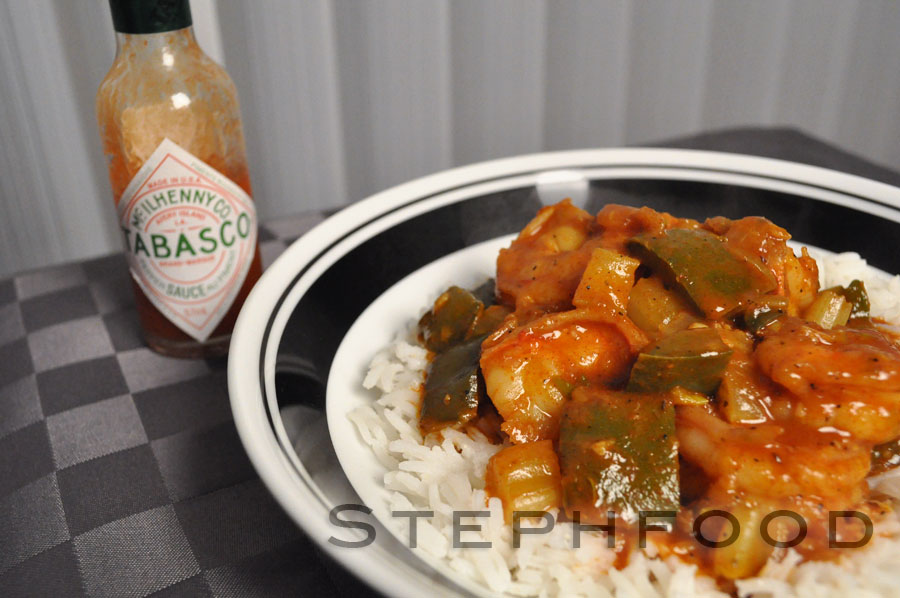 A few weeks ago, while searching for Irish recipes for my St. Patrick's day feast, I came across a recipe posted in celebration of Mardi Gras. I bookmarked it, and went along on my Irish expedition. With none of the anticipated 'luck of the Irish' I should naturally have, I found nothing that really piqued my interest. (Better luck next year?)
That weekend, I pulled out this recipe and decided it would be a great start to my discovery of Cajun food, with a new technique!
For some reason, I assumed 'étouffée' would be something stuffed. Apparently, the word actually means 'stifled' or 'suffocated'. (Well, then!) It's also a technique where you cook something smothered in a sauce. You start this with a brown roux – this is different, for me, because I've only ever used a roux to make a sauce separate from the rest of the dish (like a cheese sauce). Starting with a roux, and adding the other ingredients to it, is a new thing for me.
This was a really simple dish that can be made on a weeknight. That's what I like to see!! Also, you're expected to top it with Tabasco sauce… A word of warning to the chili-challenged – if you don't like your food too hot, go easy on the jalapeño while cooking the dish and save the heat for the Tabasco. The Tabasco is really important, because it adds not only heat, but that special vinegary tang. To keep it on the mild side, you can either make sure to cut out the seeds and the membrane, or just omit the jalapeño altogether.
Shrimp Étouffée
Based on the recipe posted on simplyrecipes.com.
Ingredients:
2 pounds shrimp (uncooked, shell on)
1 large onion, chopped
1 green bell pepper, chopped (cut off top and bottom and set aside for stock)
6 garlic cloves, chopped
2 celery stalks, chopped
4 bay leaves
1/4 cup vegetable oil
1/4 cup+ all-purpose flour
1 jalapeño peppers, chopped
1 tablespoon Cajun seasoning
1/2 teaspoon celery seed
1 tablespoon sweet paprika
Salt
3 green onions, chopped (green parts only)
Tabasco sauce, to taste
Preparation:
Peel the shells off of the shrimp and set aside.
Bring 8 cups of water to a bowl in a stock pot. While waiting, combine the following in a bowl: 1/2 the chopped onion, the top and bottom of the green bell pepper, 1/3 of the chopped garlic, 1/2 the chopped celery and the bay leaves. Once the water comes to a boil, add the contents from the bowl and lower the heat to low-medium. Let the stock simmer for about 45 minutes, and strain. Keep the stock warm.
Next, make the roux. Heat an enamel coated dutch oven, over medium heat, and add the vegetable oil. Heat for a couple of minutes, then stir in the flour until it is smooth. Cook for about 10 minutes, until the mixture turns a caramel brown (not burnt), stirring regularly.
Mix the remaining celery, green pepper, onion, garlic and jalapeño into the roux and cook for a few more minutes, stirring regularly.
Slowly pour in about 1/4 cup of the warm stock, stirring while mixing. Continue to add stock in small increments, if needed. The sauce should be as thick as mape syrup.
Incorporate the spices and salt, then the shrimp. Cover the pot, bring the heat down to low and cook for about 10 minutes, or until the shrimp are fully cooked.
Serve over rice, topped with green onions and Tabasco sauce.