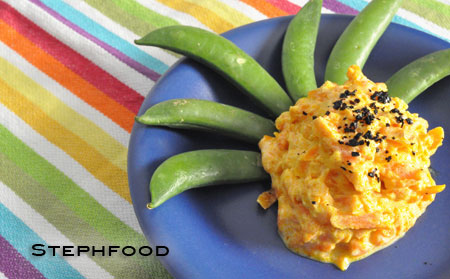 Two years ago, we were finishing up our trip through Turkey. Since then, I've been obsessed with making dishes we had on the trip, and ones found in the cookbook I bought there.
This dish is a disturbingly simple carrot and yogurt salad/dip. If you saw it in a cookbook, you would think it was boring. You would be wrong.

I've mentioned the cookbook before… It's called Turkish Cookery, and you can find it in most tourist shops across Turkey. Hopefully you can find it in your language. I managed to find an English one at the very end of the trip, after searching through dozens of shops. Sometimes it's hard to know what a dish is like based solely on the recipe in a cookbook. Some cookbooks offer you the benefit of a commentary from the author, extolling its virtues. This one did not.
Jump ahead a little bit. I was reading someone's blog and they made a Turkish carrot and yogurt dish, and wrote all about it. They made it sound like heaven in a bowl. Lo and behold – there was such a recipe in my book. I'll have to find that blog post again, to see how similar the recipes are.
I didn't try making it until this past weekend. J was baking a bread, and we were having our usual 'spread' dinner, featuring veggies, cheeses, dips, olives, bread and wine. I chose to make this dip because it's been on my list FOREVER – but also because it seemed quick and easy. It was deceptively simple, and I was prepared for it to be boring. It was so tasty with the bread, and with our veggies!
The Verdict:
This is so simple, and sounds so boring… but it's really tasty. It's also very healthy, when compared to most of the store bought dips that are often full of mayonnaise and preservatives. Since making the dish, I found another blog post that mentions that the dish pairs perfectly with rakı. I suppose we'll have to have some rakı with it next time!
A quick warning – if you are sensitive to garlic, try using less the first time you make this dish. The longer it sits, the stronger the garlic will taste. I love garlic, so two whole cloves didn't bother me.
Turkish Carrot with Yogurt (Yoğurtlu Havuç)
based on a recipe found in the book Turkish Cookery.
4 servings
Ingredients:
3 cups shredded carrot (about 3 medium sized carrots)
2 tablespoons olive oil
a pinch of salt
1 – 1.5 cups yogurt (a thicker variety, or strained)
2 cloves of garlic, grated (optional – use less if unsure!)
1/4 teaspoon paprika
a pinch of Kurdish Isot pepper (optional)
Preparation:
Heat the oil in a pan, and sauté the shredded carrot over medium heat with the salt. Cook until the water is released from the carrot, and it is soft.
Meanwhile, add the grated garlic and paprika to the yogurt in a medium bowl, mix well, and set aside.
Once carrot is fully cooked, add the carrot to the yogurt mixture, and mix well. Top with Kurdish Isot pepper (if using) or a pinch of paprika.
Store in the fridge until ready to serve. I recommend letting it chill for an hour or so, to allow the yogurt to firm up a bit and for the flavours to mingle.
Serve with bread, or veggies, or as a side salad.