I am a sucker for a good brunch. Lately, I've been all about the Benedict, and Benedict-adjacent. Recently, I branched out and tried a Croque Madame, and just had to try making it for myself.
This time around, I'm just trying to make the base recipe. Next time, I'll mess with it a bit and make it my own…
If you've never had Croque Monsieur or Croque Madame, they're both basically grilled ham and cheese sandwiches. Sometimes they have a bit of Mornay sauce poured over. Croque Madame has a fried egg on top. That's pretty much it.
I had to look up what a 'Mornay' sauce was – and then I laughed, because it's the process I've always used to make my 'cheese sauce'. Heh. Now I can be all fancy and tell people it's a Mornay sauce. First you make a 'roux' (butter and flour cooked together), thin it with milk to make a 'Bechamel', then add cheese to make it a 'Mornay'. There ya go – each step has a name.
I always learn something new – in this case, I learned the name of the thing I already do.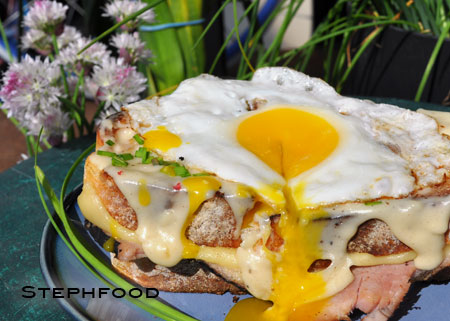 Back to the Croque Madame… This is no ordinary ham and cheese sandwich. It's major. It's a meal in one sandwich. Honestly, it's not too hard to make, and you can prep some of the ingredients the night before so you don't have to do it all in the morning. In fact, the Mornay is easier to spread on the bread right out of the fridge. Since I often use cheese Mornay sauce on pasta, I can see using the leftovers on brunch the next day!
Another thing I should mention – some recipes I found call for broiling in the oven. To me, this seems like extra work – and not appealing on a summer morning. I opted for a recipe that relies entirely on a frying pan (and a small sauce pot for the Mornay). That said, if you are making more than a couple of sandwiches and have to do them in batches, broiling them in the oven for a few minutes (sans egg) is a great way to finish them all at the same time. I only had to make two, so heating up the oven just wasn't worth it for me.
The Verdict: This is a really filling breakfast/brunch dish that looks and tastes impressive. There is some prep work involved, but some of it can be done in advance. I will definitely be making this again.
Croque Madame
based on this recipe from seriouseats.com.
2 servings
Ingredients:
4 slices crusty bread
Grainy mustard (can use Dijon)
4 ounces thinly sliced ham (such as Black Forest)
3 ounces thinly sliced cheese (such as Jarlsberg or Emmental)
2 tablespoons of butter
1 cup Mornay sauce (see recipe below)
chopped fresh chives (optional)
2 eggs
Preparation:
Preheat a cast iron frying pan, over medium heat.
Butter each slice of bread on one side. Flip bread over, so the filling is added to the non-buttered sides.
For each sandwich: Spread 1 tablespoon of mornay sauce and layer ham and cheese on one slice of bread. On the other slice, spread a thick layer of grainy or dijon mustard. Put the two sides together, buttered side out.
Place sandwiches on the skillet. Cook until cheese begins to melt, and bread is toasted and golden brown.
Flip and cook until cheese is fully melted and other side of sandwich is brown. Remove sandwiches from the pan, and add to plates.
Fry eggs in same pan over high heat until white is almost set.
While eggs are frying, add about 1/3 cup of mornay sauce and sprinkle a bit of extra cheese and fresh chives
When eggs are ready, place one atop each sandwich.
Mornay Sauce
based on this recipe
makes 1 cup of sauce
Ingredients:
1 1/4 tablespoons butter
1.5 tablespoons all-purpose flour
1 cup warmed milk
1/8 teaspoon salt
1/8 teaspoon white pepper
2 cups Gruyere cheese, grated
Preparation:
In a medium saucepan melt the butter over medium-high heat. Add the flour and cook, stirring constantly, for about 1 minute. This is a roux – do not allow it to brown.
Slowly whisk in the milk and continue to whisk until the sauce thickens, about 2 to 3 minutes. Reduce the heat to low and add salt and pepper. Allow to simmer for 2 to 3 minutes. This is a bechamel sauce.
Add the cheese and stir until melted.