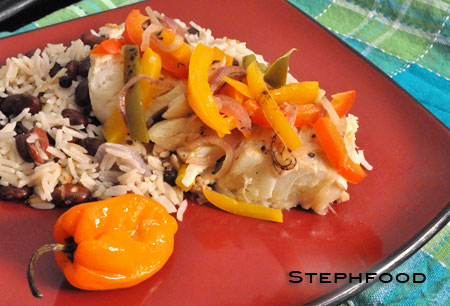 It's hard to believe that I've been meaning to make this dish for almost a year now! I had intended to try it as soon as we got back from Jamaica, and then I decided to try it in the Summer, and BBQ the fish… and then I just forgot.
Our trip to Jamaica co-incided with J's birthday last year, so I can pretend that I purposely held off posting this until his birthday this year… yeah, I totally meant to do that. So, Happy Birthday J! Where are we going to travel this year!?
One of the best things I ate in Jamaica was Escoveitch Fish. Actually, I first tried some Escovetich Salsa and fell in love with the tangy condiment… only to find out that it was an offshoot of one of Jamaica's best known dishes. Strangely, to me, Escoveitch Fish is another dish that people in Jamaica tend to eat for breakfast!! Like the Ackee and Salt Fish, this is a dish that I'm happy to eat any time and would fit in really well with my summer food plans.
The Verdict:
This turned out pretty good, but I think I'll have to work on it a bit more. To start, I should have used a thinner fish. I used cod. J thought that the marinade was too vinegary. I probably should have made the dish the night before, put the fish (with marinade) in the fridge overnight "the way you're supposed to" and find a way to reheat it the next day (maybe a second pan fry?).
Regardless, I think it was a neat experiment to try and combine the spirit of a Jamaican dish I enjoyed so much with cooking techniques and ingredients I enjoy at home. Will work on it this summer  and update later. Maybe I'll return to the idea of a BBQ version. That would be a good way to heat it back up!
… and, in case you're wondering, the title is a reference to a 1990 song by the Canadian MC, Michie Mee. Takin' charge, and livin' large!
Escoveitch Fish, Canadian Style
Based on this recipe. I served this with the rice and peas dish from a previous blog post.
4 servings
Ingredients:
1 lime
2-3 white fish filets (I used cod – something thinner, like Tilapia, may work better)
1 onion, sliced
1 scotch bonnet pepper de-seeded, de-veined, and diced (I used 1/2 teaspoon scotch bonnet purée)
1 bell pepper sliced into very thin strips (various colours is nice)
1/2 cup of any white vinegar
1/4 cup water
1 clove of garlic diced finely
10 to 12 whole allspice berries
6 whole black pepper corns
Preparation:
Marinate the fish in lime juice and a sprinkling of salt for about an hour or two.
When it is time to fry the fish, pat it dry and sprinkle with black pepper. Cook the fish on a well oiled, hot grill until the outsides are seared and the fish is almost entirely cooked (timing will depend on thickness of fish). Do not overcook – it will continue to cook in the sauce.
In a deep sauté pan, add the onions, peppers (scotch bonnet and bell), vinegar, water, garlic, allspice and peppercorns. Allow the mixture to come to a boil, turn down the heat and simmer for a few minutes to cook the vegetables.
Add the cooked fish filets, coat in the sauce, turn off the heat and let sit, covered, for about 10 minutes.
If you wish to eat the fish hot, you can do so. Otherwise, put the fish and marinade in a container and refrigerate overnight (see my notes above).