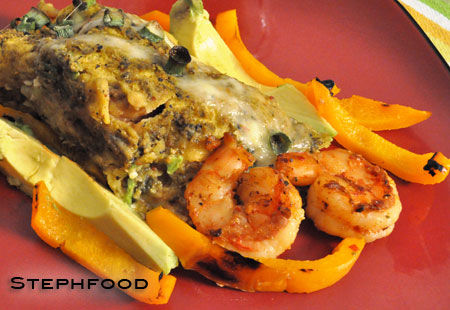 I suppose this post should be titled "Spicy Shrimp Enchiladas with Mole Verde", but seriously it's all about the mole verde.
It all started with a Valentine's Day gift. I can tell that someone "gets" me, when they get me spices.

It kind of started as a joke. We really don't exchange gifts on Valentine's Day, but I like to make jokes about the hordes of gifts I should get. On one such occasion, I pointed to my computer screen, where I had up the Épices de Cru website. On my glowing screen, a series of shiny round containers full of spices. Delicious spices. Mexican spices.
"This is what I want for Valentine's Day!"
"Sure"
… and we didn't mention it again. Valentine's Day weekend, I needed some inspiration for my dinner choice. He pulls out a bright yellow box, and there they were… my beloved spices.
Of course, I had to make something Mexican!! I found the perfect way to highlight some of my new spices – mole verde. I made some tasty enchiladas, with corn tortillas and spicy shrimp.
The Verdict:
The new spices are amazing, of course, and I'm having so much fun playing with them! The enchiladas were really tasty, but one word of caution – the corn tortillas practically disintegrated after baking. They still tasted fantastic, but I do like them to retain a bit of their shape. I had taken a tip that I found in various enchilada recipes, where you dip the tortilla in the sauce completely before rolling. Now, I think I would omit that step if you are also going to pour the sauce over the whole thing to bake. Just do one or the other. I have included this note in the recipe instructions below.
About this series…

Cooking with Épices de Cru is a series of posts dedicated to trying all of the spice blends I bought from the amazing Épices de Cru. Whenever possible, I will base my post around a recipe from their website (with a twist, of course). I recently discovered some of their products at About Cheese, on Church St. – my first time seeing Épices de Cru products here in Toronto! (aside from my cupboard)
Spicy Shrimp Enchiladas in Mole Verde
Mole based on this recipe.
6 servings
Ingredients:
3 cups mole verde (recipe below)
2 tablespoons spices for shrimp (can be simple – a bit of a spicy rub, maybe include some chipotle or even smoked paprika – don't overthink this part! I used the Épices de Cru Oaxaca Rub)
1 pound uncooked shrimp, shelled
12 small corn tortillas
1/2 cup refried beans
1 cup queso fresco (can use feta cheese), crumbled
1 cup jalapeno Monterey Jack cheese, grated
2 scallions, green parts sliced and white parts finely minced
1 avocado (optional, for serving)
fresh cilantro leaves (optional, for serving)
Preparation:
Evenly coat shrimp in spice mixture, and let sit in the refrigerator for an hour or so.
Preheat oven to 350 degrees, with the rack placed in the middle.
Heat 1 tablespoon oil in a frypan or grill pan. Grill shrimps just until they are no longer translucent, about 2 minutes per side. Do not overcook. Remove from heat and set aside.
Spread 1-2 tablespoons of mole verde in a thin layer on the bottom of casserole dish, to prevent enchiladas from sticking.
If you won't be completely covering the enchiladas in sauce while they bake, dip each tortilla fully in mole verde. If you will be covering the enchiladas in sauce before baking, skip this step (otherwise your tortillas may disintegrate!).
In each tortilla: spread about 1 teaspoon of the refried beans, place three (or more!) shrimps, sprinkle with crumbled queso fresco (or feta), and the white parts of the scallions.
Roll tortilla, and place in a row in the casserole dish, seam side down.
Pour the remaining mole over top. (optional – I recommend not doing this if you dipped the tortillas in the sauce!)
Sprinkle the Monterey Jack cheese and sliced green scallions across the top. Bake for 20-25 minutes.
If you didn't cover the enchiladas with mole sauce to bake, be sure to pour some over the finished enchiladas before topping.
Serve topped with a few more green accents (think avocado, sliced grilled poblano, fresh cilantro).
Mole Verde
Ingredients:
3/4 cup pepitas (green pumpkin seeds, unsalted)
8 medium tomatillos, quartered
1/2 medium onion, coarsely chopped
2 garlic cloves, peeled and halved
4 poblano chiles, skinned, seeded and chopped (if you can't find these, substitute 1 large green bell pepper and a jalapeno)
3 tablespoons fresh cilantro, stemmed and chopped
1 teaspoon epazote (can use parsley, if you can't get epazote, or omit)
1 teaspoon oregano (preferably Mexican)
4 cups light-flavoured broth (like vegetable or chicken)
2 tablespoons vegetable oil
salt, to taste
Preparation:
In a dry fry pan, over medium heat, toast the pepitas (if they aren't already toasted). Let cool, then grind in a food processor or grinder. Set aside.
In a medium saucepan, sauté onion with chopped poblano pepper until they soften and onion is translucent. Add garlic, tomatillos, and two cups of broth. Bring to a boil and simmer until tomatillos soften.
In a blender, blend the contents of the saucepan until smooth.
Add ground pepitas, cilantro and epazote and blend until smooth.
Add salt, to taste.
Heat 1 tablespoon of vegetable oil in the saucepan, over medium heat. Return sauce to the saucepan and add the rest of the broth.
Bring to the boil, then simmer for about thirty minutes, stirring regularly.