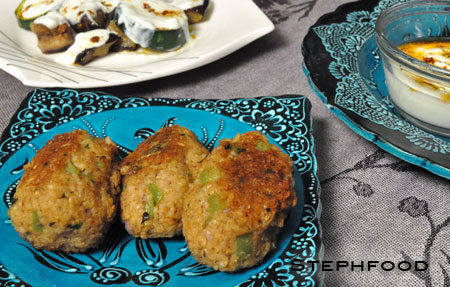 This month's Daring Cooks' challenge asked us to make some form of 'patty'. I used it as an opportunity to dive back into my Turkish cookbook…
The end result is a mashup of a couple of different dishes – a great way for vegetarians to experience köfte. Most people know Turkish köfte as football-shaped meat balls, full of spices and a little bit crispy on the outside. This is my attempt at making them vegetarian.
I was itching to make another dish from the cookbook I got in Turkey. The problem is that there are so many great dishes, and I needed to narrow my focus a little. When I read the Daring Cooks' challenge for February, I knew what I wanted to make – köfte.
I also knew that I didn't want to make it out of meat. This posed a bit of a challenge. Not that there aren't any vegetarian köfte – there are, but like some other Turkish dishes, the vegetarian version is meant to be eaten cold. I wanted to make a vegetarian version of the seared meatballs I had in Turkey. I devised a plan to merge the vegetarian dish with the meat dish, retaining most of the spirit of the meat dish.
I was really excited to have a chance to use the köfte spices I picked up in Turkey. I've used them in other things, but they're really meant to season meat. Spices are incredibly important when trying to turn a meat dish into a veggie one. Sometimes you have to add more spices, in order to mimic the flavour. In this case, I was able to use the same kind of spices used in the meat version – I think I may have used a bit more, to give it more "oomph".
I have provided a köfte spice blend recipe in addition to the köfte recipe. It's not exactly like the one that I bought, but pretty close. There's one spice in the one I bought that I just can't seem to put my finger on… it's driving me a little bit crazy.
The Verdict
Although not exactly like the meat köfte, these were a pretty good substitute. They were a little bit crispy on the outside, but soft on the inside (unlike their meat counterparts). One thing to keep in mind with these is that they really benefit from a decent sauce, helping to break up the 'lentilness' of the dish. Here, I have served them with a garlic yogurt. You could also make a tomato-based sauce to go with them (J commented that he would have liked this). A decent vegetable side dish is important, too. You don't want anything too starchy.
The Daring Cooks' February 2012 challenge was hosted by Audax & Lis and they chose to present Patties for their ease of construction, ingredients and deliciousness!  We were given several recipes, and learned the different types of binders and cooking methods to produce our own tasty patties!
Vegetarian Köfte (Lentil and Bulgur)
based on this recipe, and one found in Turkish Cookery.
2-4 servings
Ingredients:
1 cup dried red lentils
1 – 1.5 cups yogurt
2 tablespoons minced garlic
1 teaspoon salt
1 cup fine bulgur
1/2 cup of finely minced onions
1 green pepper, finely minced (something spicy, like a poblano, would be lovely here!)
1 teaspoon chile flakes
1-2 tablespoons kofte spices (see recipe below) (or 1 1/2 teaspoons cumin)
1/3 cup finely chopped parsley
1/3 cup finely chopped fresh mint (or 1 1/2 tablespoons dried)
2 tablespoons olive oil
salt and ground pepper, to taste
Preparation:
Soak lentils in cool water for at least 30 minutes.
Meanwhile, add 1 teaspoon salt and 1 tablespoon of the minced garlic to the yogurt, mix well and set aside.
Drain lentils well. Cook lentils in 3 cups of water. Once half of the water has been absorbed, add the bulgur. Boil for 1-2 minutes.
Turn off the heat, and let the lentils and bulgur sit for 20 minutes.
Add the rest of the ingredients and mix well.
Take 1/4c of the mixture, and shape into a smooth oval. Repeat until all of the mixture is used.
Heat oil in a cast iron pan over medium-high heat. Cook in single-layer batches, browning on all sides.
Serve topped with garlic yogurt sauce.
Turkish Kofte Spices
Ingredients:
1 teaspoon paprika (sweet)
1 teaspoon chile (hot)
1 teaspoon cumin
1 teaspoon coriander
1 teaspoon thyme
1 teaspoon onion powder
1 teaspoon cloves
1/4 teaspoon black pepper
1/4 teaspoon allspice