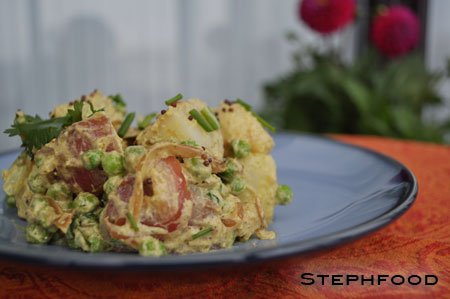 This month's Daring Cooks' challenge is "Healthy Potato Salads from Around the World!", and the timing couldn't be better!
This gave me a perfect opportunity to morph the classic Indian "Aloo Gobi" into a fresh potato salad! Instead of drowning the potatoes in mayonnaise, I've made a spicy and bright dressing with yogurt. If you like potato salad, and don't shy away from fun spices, you will love this!
Aloo Gobi Salad with Masala Shrimp Skewer
When I first saw the challenge, I had a bizarre reaction. First I was happy, because I had the perfect potato salad to offer, one I've been making for years! Then I was a little bit disappointed, when I realized that I have already posted this perfect salad to my blog. Then I was excited, when I realized that this was exactly the kind of challenge I needed right now!! It was about time I tried a different potato salad recipe!
I thought about it for a while, and eventually decided to do something inspired by the flavours of India. Aloo gobi is probably one of the best known potato dishes, so I thought it might be fun to see if I could convert it to a potato salad. The addition of cauliflower to a potato salad also seemed really interesting to me – any time I can get away with adding more vegetables, the happier I am. I threw some peas in there for fun – they're a great colour, add a nice sweet flavour and are so adorable!
While I figured this would work, I really wasn't sure if I would have to try it a couple of times to get it right. In the end, I didn't really have to tweak it at all. I prepared the veggies in advance, and let them cool while I made the dressing. I started by preparing the spices and onions as directed by the inspiration recipe – and then mixed the paste into some yogurt after it had cooled. One taste, and I knew I had a winner. It was amazing!!
This would be a great dish to bring to a BBQ – it's a fun and unexpected twist on potato salad, without being too spicy or imposing.
Jami Sorrento was our June Daring Cooks hostess and she chose to challenge us to celebrate the humble spud by making a delicious and healthy potato salad. The Daring Cooks Potato Salad Challenge was sponsored by the nice people at the United States Potato Board, who awarded prizes to the top 3 most creative and healthy potato salads. A medium-size (5.3 ounce) potato has 110 calories, no fat, no cholesterol, no sodium and includes nearly half your daily value of vitamin C and has more potassium than a banana!
Daring Aloo Gobi Salad
Adapted from an Aloo Gobi recipe found on Manjula's Kitchen
Ingredients:
2 cups small cauliflower florets
4-6 new potatoes (red or yellow flesh)
1 cup green peas
1 teaspoon grated fresh ginger
3 teaspoons ground coriander
1/4 teaspoon turmeric
1/4 teaspoon cayenne pepper
3 tablespoons oil
pinch of Asafoetida (Hing)
1/2 teaspoon cumin seeds
1/2 teaspoon brown mustard seeds
1 small onion, sliced
2 green chilies, sliced in long pieces (I diced a jalapeño)
2 bay leaves
1 teaspoon salt
1 cup greek yogurt
1 teaspoon amchoor (mango powder)
2 tablespoons of chopped cilantro (plus more for garnish)
water, as needed
Preparation:
Boil the potatoes (leave skin on), cauliflower and peas. Let cool, transfer to fridge for a few hours to cool completely. (Note: potatoes will need to cook the longest, so it might be good to cook them in a separate pot. The cauliflower and peas can be done together – if the peas are raw they should take the same amount of time. If they are frozen, they will only need a minute or two, and if they are canned they won't need to be cooked at all.)
In a small bowl, mix the shredded ginger, coriander, cayenne pepper, turmeric, and 2-3 tablespoons of water to make a paste.
Heat the oil in a pan. Add asafoetida, mustard and cumin seeds to the oil.
Once the seeds pop, add the onion, bay leaves and green chilies and stir for a few seconds.
Add the spice paste and stir for a minute until the spices start separating from the oil.
Remove from heat, and add salt. Allow to cool before transferring to a medium glass bowl. Try to remove the bay leaves.
Once the spice mixture has cooled, add the yogurt, mango powder and the chopped fresh cilantro and mix well. Return to the refridgerator and leave for at least 2 hours, to allow the spices to come together.
Cube the cold potatoes, leaving the skins on.
In a large glass bowl, toss the dressing with the potatoes, cauliflower florets and peas.
Top with fresh cilantro (coriander leaves) and chives.