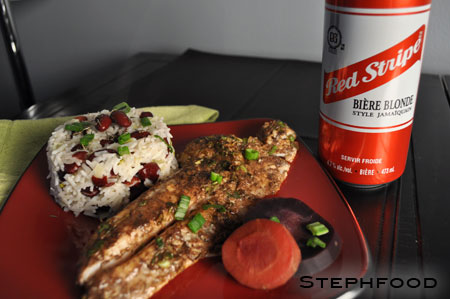 Time for another Jamaica Discovery!!
This time, we're taking the more obvious route, and killing it with some JERK! Instead of the standard jerk chicken, we played with some nice white fish.
Before going to Jamaica, all I ever heard was that we don't do Jerk properly in North America, because we use sauces and it's meant to be a dry rub. I was convinced this was true. I was a little surprised, however, when the first Jerk I had in Jamaica was actually saucy. Colour me confused.
Over the course of the trip, we got to try all sorts of variations on Jerk – some were saucy, some were dry… all were darn good! Not only that, but it seems you can Jerk just about anything – not just chicken. One of my new favourite dishes, introduced to me on this trip, was Jerk conch. Crazy, no?!
Of course, the main thing in all of these examples is the basic Jerk seasoning. Mostly made up of allspice, which is called 'pimento' in Jamaica, the seasoning blend is a very strong savoury blend of herbs and spices. A few liquid ingredients are added to mix into a paste, which you spread all over the protein you're cooking (fish, chicken, seafood, pork, or even tofu).
The next hard part is to get the cooking right. The traditional way to do it is to smoke it over some kind of fire pit, often using the leaves and other discarded parts of the allspice/pimento plant to further enhance the flavour. This is really hard to do with a propane grill, like I have. I thought it might be good to get a mild flavoured wood plank (like maple), rub in some additional ground allspice and cook the fish on top of it.
This worked pretty well, but it didn't smoke as much as I would have liked this time (go figure – sometimes the planks smoke too much, and this time not enough!). Will take a few more tries to get it right. Oh darn! 😛
In the end, the fish was AMAZING! I was really happy with the way it turned out. To up the ante just a little, I even decided to make some Jamaican rice and peas as a side dish. In this case, 'peas' refers to a legume – often a small red kidney-type bean – and not a green pea. This rice is cooked with some coconut milk and onions to give it a really rich flavour. This was a pretty fun side, definitely more fun than steamed white rice!
To end, here is a picture of some whole red snappers looking at me, judging me. Whole red snappers are the usual fish – I cheated and got some filets. Boo for me!!!
Jerk Fish, with Rice and Peas
Ingredients:
wood planks
3 scallions, greens only, thinly sliced
1 large shallots, finely minced
1 large garlic cloves, finely minced
1/2 tablespoon fresh ginger, finely minced
1/2 tablespoon scotch bonnet (or 1 jalapeños) seeded, ribbed & finely minced (I used 1/2 teaspoon scotch bonnet sauce)
2-3 tablepoons Steph's Jerk Spice Blend (recipe below)
salt, to taste
1 tablespoon fresh thyme /or/ 1 teaspoon dried thyme
1/2 tablespoon dark brown sugar
1 tablespoon fresh orange or lime juice
1 tablespoon soy sauce
1 tablespoon olive oil
4 small fish filets (preferably red snapper, but any white fish will do)
Preparation:
Soak wood planks for at least 3 hours.
Combine scallions, shallots, garlic, ginger and scotch bonnett peppers.
In another bowl, combine jerk spices, fresh thyme, brown sugar, plus salt & pepper.
Whisk in orange juice, lime juuice, vinegar, and soy sauce. Slowly drizzle in oil, whisking constantly.
Add reserved scallion mixture (see #1); stir to combine,
Let rest at least 1 hour.
Wash fish well & place in a bowl. Add sauce, rub in well.
Cover and let refridgerate overnight.
Before cooking, scrape paste off.
Rub the top of the soaked wood planks down with some ground allspice.
Place fish on top of the wood planks, and cook on the grill until the fish is cooked. The wood planks should smoke a little, and infuse the fish with the smoke flavour.
Steph's Jerk Spice Blend
Please note that I tend to leave the heat and salt out of my spice blends, in favour of adding both to specific dishes. This gives me more control over the balance of heat and salty with the rest of the ingredients.
To retain freshness, use whole spices where you can, make small batches, and keep in a tightly sealed container. This recipe makes a small amount.
Ingredients:
1 teaspoons allspice berries
1/2 teaspoons onion flakes
1/2 teaspoons black peppercorns
1/2 teaspoon dried garlic
1/3 teaspoon cinnamon
1/4 teaspoon dried ginger
1/4 teaspoon freshly grated nutmeg
6 whole cloves
1 teaspoons dried thyme
Preparation:
Grind together all ingredients, except for the thyme.
Mix in the thyme at the very end – this should remain whole.
Put in a jar that seals tightly.
*Remember: this recipe is missing the salt and the heat. These things will need to be added to your jerk recipe.
Jamaican Rice & Peas
Ingredients:
1 1/2 – 2 cups cooked red kidney beans (if using canned, be sure to thoroughly rinse the beans)
1 can coconut milk
1 cup of rice
1/2 small onion, chopped (I used the white parts of scallions – conveniently left over from the Jerk Fish recipe – you need about 1/4 cup, chopped)
1 clove garlic, chopped
1/4 teaspoon dried thyme
1 scotch bonnet pepper (whole, do not chop up) (I didn't have one, so I used other whole chilis)
water
Preparation:
Combine coconut milk and water (or a light broth) to make 2 cups of liquid. For a lighter rice, use less coconut milk and more water/broth.
In a large pot, combine the beans, onion, garlic, thyme, and coconut milk. Bring to a boil.
Add the rice, stir and allow to come back to a boil. Immediately reduce the heat to medium-low.
Lay the uncut pepper on top of the mixture and cover. Cook until rice has absorbed all of the water, and is light and fluffy.
Remove the pepper before serving.