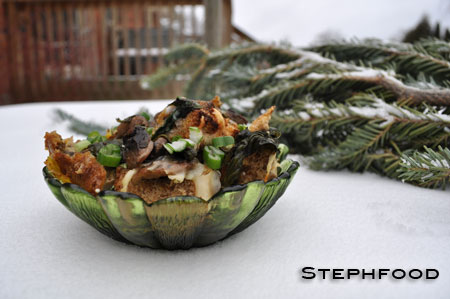 For years and years – as far back as I can remember (all the way to last week?), we went out for brunch on Christmas Day. It was something I always looked forward to as a kid, and we usually went to the same place. Things changed, the places to go were limited, our little group dwindled, and we decided it was time for a change.

Last year, we decided to make brunch at home, "just us" (meaning my parents, sister and myself… and sometimes Grandma).
The key was that we didn't really have time to make anything really involved or fancy – but it did have to be good. We decided to make a strata, only roughly following a recipe my mom found. It was our idea to add the drunken mushrooms.
We love drunken mushrooms. We love them so much that we decided to do it again this year.
The great thing about strata is that you can basically throw in anything you like. It's a great way to use up some ingredients from the fridge – use up some ends of cheese, day old bread, veggies. Just layer it all into a baking dish, and pour some egg and milk mixture over top – kind of like a savoury french toast casserole. You could even make a sweet version – sans drunken mushrooms, of course!
Add a mimosa, and some tea in my Kermit & Piggy Christmas mug, and our new Christmas Day tradition is perfect!
How was your holiday? Any memorable meals?
Drunken Mushroom, Spinach and Gruyere Strata
Modified from this recipe on prevention.com.
Ingredients:
1 nice loaf of day-old bread (sourdough, egg bread – any that are chubby and not too hard), cut into large cubes
5 teaspoons olive oil
3 tablespoons minced scallions
2 cloves garlic, minced
3 cups  sliced mushrooms (I think we used more… love mushrooms!)
1/2 cup white wine
1 tsp butter
3 cups fresh spinach, washed, de-spined and roughly chopped
1 teaspoon herbes de provence (or other fun herbs, like basil, oregano, sage, thyme… whatever you like!)
1/4 teaspoon salt, plus more to taste
freshly ground pepper, to taste
3 large eggs
2 large egg whites
1/2 cup low-fat (1%) milk
1 cup grated Gruyere cheese
Preparation:
Generously oil a 7 by 11-inch baking dish. Lay half the bread in the dish and set aside.
In large skillet, heat the oil over medium heat. Add the scallions and garlic, and cook, stirring frequently, until the scallions have softened, about 2 minutes.
Add the mushrooms, and sauté until browned. Deglaze the pan with the wine.
Stir in the spinach, herbs, salt and pepper, and continue cooking until the spinach has softened and is heated through, about 4 minutes. Remove from the heat. Spoon half of the spinach mixture over the bread in the baking dish.
In a medium bowl, whisk together the whole eggs, egg whites, and milk. Pour half of this mixture over the spinach layer. Sprinkle with half the cheese. Top with the remaining bread, spinach, egg mixture, and cheese. Let sit for 30 minutes.
Preheat the oven to 350 °F. Bake the strata for 30 minutes, or until golden, puffed and set. Let stand for 10 minutes before serving.